gentle grooming with love & care
stress-free grooming 😌

professional services ✂️

animals first ☀️
Shakespeare S.

⭐️⭐️⭐️⭐️⭐️

Always happy to bring Mimi (toy poodle) and my 2 rabbits for grooming with Hachi By Tokyo. They take extra care to make each animal feel comfortable and are detailed in their work. 💖 I can tell that my animals are relaxed and at ease when they visit, so I'll definitely keep bringing them back here. Thanks Felicia and team! :)

view more

Trinity T.

⭐️⭐️⭐️⭐️⭐️

Second time bringing my pup to HBT for grooming and would always be excited to go back after her grooming session to pick her up! HBT have always given prompt replies when booking for appointments and most professional or best to their recommendation for the best way to approach knots or any troubles my pup faced when grooming!

Highly recommend 🤩

view more
ready to book an appointment? 🗓
click below if you are ready to book your appointment with us at hachibytokyo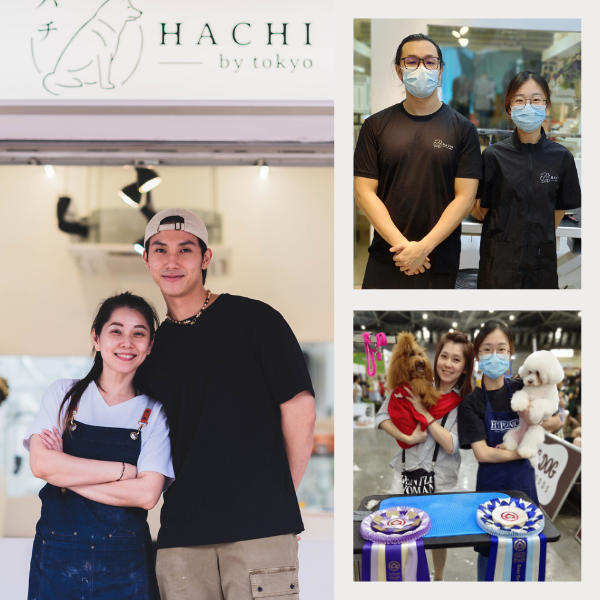 our team & achievements ❣️
Experience gentle, loving pet grooming at Hachi by Tokyo. Our expert team cares for your furry friend as if they were our own. Superior service, attention to detail, and a stress-free environment make us the top choice for dog grooming. Visit us today to transform your pup's grooming experience!
Hachi by Tokyo opened June 2021, with 10+ years of pet grooming experience under our team.
We only practice stress-free pet grooming. Giving more love and care as to make sure your pets leave happy !
Our groomer Cindy managed to clinch two awards at the SKC grooming competition
Best Groomer in Level C & Overall Winner in Level C
need any help? 😊
Got any questions/queries? Feel free to explore our services and prices or reach out to us using the buttons below!